Top 10 CRM For Photographers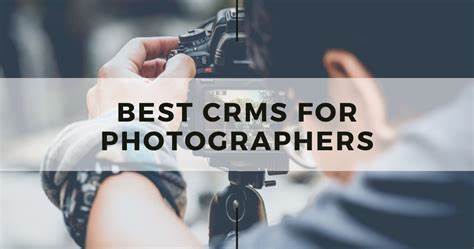 Top 10 CRM For Photographers – Customer relationship management (CRM) systems are an essential tool for businesses of all sizes, including photographers. With so many CRM options available, finding the right one can be overwhelming. A CRM can help photographers manage leads, bookings, payments, and communication with clients, ultimately saving time and improving overall customer experience.
According to a recent survey by the photography website PetaPixel, over 50% of photographers reported that they use some type of CRM system to manage their businesses. In addition, 95% of photographers said they believed that CRM systems help improve customer relationships. With these statistics in mind, it's clear that a good CRM system can make a significant impact on a photographer's business.
How CRM For Photographers Can Streamline Your Business Processes?
CRM for photographers can streamline your business processes in many ways. Here are some examples:
Automating Lead Capture and Management: With CRM, you can automate lead capture and management, saving you time and effort. The CRM software can collect lead data from your website and social media accounts, and organize it in a central database. You can then use this data to target your marketing efforts and track the progress of your leads.
Simplifying Communication: CRM software can help you communicate with your clients more efficiently. You can use the software to send automated emails, track client conversations, and schedule appointments.
Streamlining Workflow: With CRM, you can streamline your workflow by automating repetitive tasks. For example, you can use the software to generate invoices, track payments, and manage contracts.
Enhancing Collaboration: CRM software can improve collaboration between team members. You can use the software to assign tasks, share documents, and track progress.
Improving Data Analysis: CRM software can help you analyze your data more effectively. You can use the software to track customer behavior, measure campaign performance, and identify trends.
Top 10 CRM For Photographers
Here are the top 10 CRM for Photographers:
1.) Shoot Q
The system offers many features such as easy reservation management, contract customization, communication templates, creation and management of workflows, prioritization, invoicing and payment acceptance, reporting, scheduling, etc. The developers have also created a version that is available on mobile. an AppStore device that helps customers manage their business 24/7.
Price: Starts at $29 per month and offers a free version for a single-user studio.
2.) 17 Hats
17 Hats is the best CRM for experienced photographers. Many users admit that the software has an intuitive interface and a convenient notification system. This site includes automated tasks, project and calendar management, a client portal for convenient communication, and powerful analytics tools. The company claims that customers use its software for a maximum of 10 minutes a day to run their business. It sounds crazy, but the bottom line is that 17 Hats intelligently automates workflows, allowing you to deepen your creativity.
Price: Starting at $45 for a monthly plan
3.) HoneyBook
Honeybook has good financial management features. It allows users to easily create income statements and invoices and offers a variety of payment options. The app integrates with Calendly and Google Calendar, Gmail, Zapier, and QuickBooks. In addition, HoneyBook allows you to manage the processes of a project of any size, customize your brand and communicate with customers. Overall, it's a great tool for medium-sized businesses. As an actively developing company, HoneyBook is constantly adding new features to its software, which makes it one of the leaders in the CRM market.
Price: Starting at $34 per month
4.) Tave
It is a powerful software for different types of photo studios, from wedding photography to real estate. The web application has a handy option for customizing the To-Do list, which allows you to set deadlines for each task. You always remember all your priorities. Many users say that it takes time to learn how to work with Tave. However, this tool is worth a try.
Price: Starting at $21.99 per month
5.) Sprout Studio
Sprout Studio was created for photographers, taking into account all the idiosyncrasies of the industry. Here you can customize many features to make it easier for the user to use the software. Sprout Studio also focuses on accounting functions and provides various options for setting up invoices, analyzing financial indicators, etc. Sprout Studio is a powerful tool with advanced BI features. You can easily evaluate your company's performance and compare it with the previous quarter, half year, etc. Another advantage is that the software has features like an online gallery or design preview that are rarely found in a photo CRM.
Price: Starting at $15.58 per month
6.) Studio Ninja
This platform is characterized by ease of task and process management, which can be set up quickly. There is also a useful customer portal where you can set price differences, manage customer bookings and finalize contracts. The developers have also created a mobile application so that you can manage your business at any time. The application can be easily integrated with Google Calendar, PayPal, and QuickBooks. Overall, Studio Ninja is easy to use with a simple interface and powerful CRM tools.
Price: Starting at $17.99 per month
7.) Synchronized
This platform is the perfect tool for photo studios and small businesses in all industries. Dubsado has advanced features for communicating with customers and the ability to set up autoresponders and emails. The software also allows you to automate workflows, including sending invoices, triggers, unique actions, and task management. Dubsado's user interface is self-explanatory and easy to use. You get a free trial that serves up to three customers.
Price: Starting at $25 per month
8.) To Bloom
Bloom is a versatile software for creative people who want to simplify their tasks. This site is relatively new in the market. However, thanks to convenient marketing tools, customer communication systems, and email automation, it has already won the trust of many users. Bloom also has advanced analytics capabilities that generate custom reports based on user demand. It has convenient basic tools (invoicing, task and calendar management, reservation tracking, and more) that can be easily customized according to users' needs.
Bloom is the best CRM software for freelance or small business photographers.
Pricing: Starting at $9 per month
9.) Dubsado
Dubsado is a CRM for photographers that offers contact and contract management, invoicing, and calendar management in an all-in-one solution. Dubbing helps your business stay on the move. Build relationships, schedule meetings and create workflows to improve your projects from start to finish. Dubsado gives entrepreneurs worldwide access to all the tools they need in one place.
Dubsado Features: Customer Database, Engagement Tracking, Lead Capture, Lead Management, Workflow Management, Messaging, Schedule Scheduling, Contract Management, Marketing Automation, Offer Management, Billing & Payment, Surveys, Third Party Integrations
Pricing: Starting at $10 per month
10.) Flowlu
Flowlu CRM is a social business management software that facilitates customer engagement. It helps managers get what they want from their employees through communication, collaboration, and analytics to increase profits. Flowlu provides a platform for career development by making employee information and customer data available to everyone. Infovoog helps companies grow in an environment focused on sales, customer service, quality, and efficiency. Small and medium-sized businesses or large enterprises can use Flowlu CRM  to eliminate costly mistakes such as communication errors and wasted time.
Flowlu Features: Customer Database, Engagement Tracking, Lead Capture, Lead Management, Workflow Management, Messaging, Appointment Scheduling, Contract Management, Marketing Automation, Offer Management, Billing & Payment, Surveys, Third Party Integrations
Pricing: Starting at $20 per month
Conclusion
Selecting the right CRM software can be crucial for photographers in managing their client relationships effectively. By utilizing CRM, photographers can streamline their workflow, improve communication with clients, and ultimately grow their business.
Each CRM has its unique strengths and weaknesses, so it is important to evaluate your specific needs and budget before making a decision. Whether you are a freelance photographer or running a large photography business, there is CRM software out there that can help you optimize your client management process and achieve success.
You can also Search