Top 10 Lead Management Software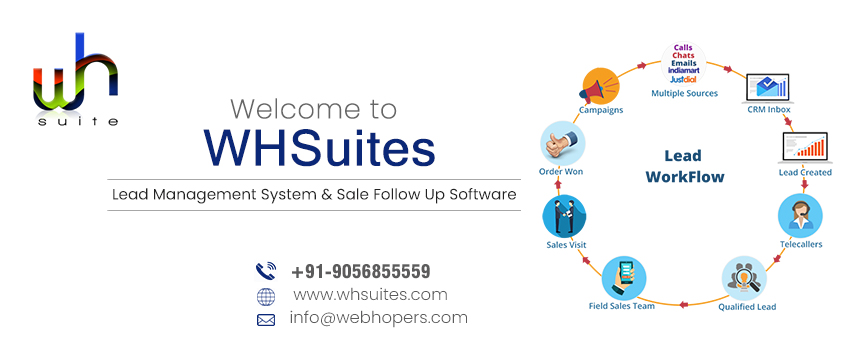 Top 10 Lead Management Software – Lead management is critically important when it comes to driving more leads and conversions to a business. The process isn't as convivial as it seems, and it brings even more complexities in the current competitive era. Here's the lead management software that comes into the picture. In this chapter, you will learn about the top 10 lead management software for your business.
What Lead Management Actually is?
Put, lead management means handling new customer inquiries, tracking their behavior and activities, and making them sales-ready by bestowing them constant attention and assistance.
Let's take an example. Raising a child is almost easy with some difficulties. Having two kids is still manageable. But what if you have dozens of kids? They all need constant attention. You can't just pick any two kids you like the most to give them more attention than others.
This situation is precisely similar to the new business on the progress path. Initially, they have nominal leads to handle. But with time, business starts getting more inquiries and leads than it can handle. Eventually, the business fails to manage all these new leads properly, and as a result, leads start scattering like kids in the example.
Hence, the term 'Lead Management' signifies a process of managing and caring for leads more efficiently to get them to the sales team to convert them into a real customer, or more accurately, a permanent customer.
Benefits of Lead Management Software
From the definition, the lead management process is likely to conclude the following major elements:
Lead Capturing
Leads Enrichment & Tracking
Lead Qualification
Leads Distribution
Lead Nurturing
To manage all these elements productively, you need an integrated tool with some qualified capabilities and a dedicated approach. It is called the lead management software to alleviate your worries about handling leads more efficiently.
Best Lead Management Software for Every Business Type
Digital lead management tools are a boon for businesses, regardless of size, type, or industry niche. They come in handy to make your business more productive and organized through an integrated lead management system.
Further, the market is stuffed with a variety of lead management software with tailor-made solutions. You can pick any of them that suits your business needs the most. Here's the list
WHSuites
You can install the WHSuites lead management software without a second thought. It is an integrated software tool well-blessed with advanced and innovative techniques to make your visitors sales-ready. It comes to make your pipeline management smooth by interconnecting every department regardless of size. The price of lead management software is very economical which you can get very easily. Since the company started they provided a lead management system to the business industry like –
Small businesses
Real Estate
Educational Industry
Colleges CRM
Pharma CRM
And Many More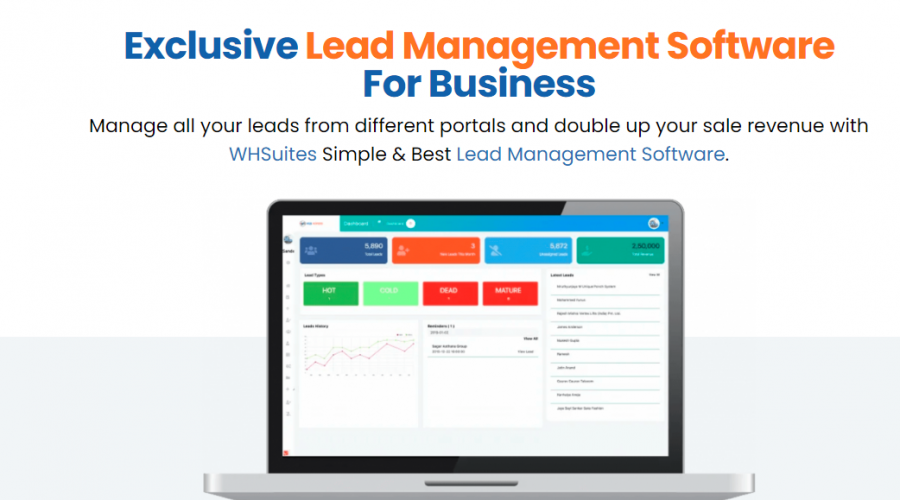 Here are some Features of WHSuites Lead Management Software:
Automate Leads System
Track Leads Activity
Manage Your Teams
Bulk Lead Assignment
Bulk Upload Leads
Secured Application
Sales Revenue
Team Productivity
Daily Sales Report
IP Based Security
Duplicate leads Check
Location Tracking
Furthermore, WHSuites helps you manage customer data, interaction, and processes. The customized dashboard displays the regular things on top to let you monitor sales flows and leads with a cursory look. The system configures some popular social media channels as well. Nowday everyone wants to increase the productivity of their team to run smoothly but there is a lot of mismanagement & lack of resources so that's why they offer solutions to them at a very basic price.
HubSpot Sales
If you run a medium to large business, HubSpot is the second topmost fit for you. It works incredibly for enterprises having 10 to 999 users. The software tool has become the first choice of more than 12000 companies, thanks to its wide range of creative features. Hubspot software helps your company to work together with its marketing, sales, customer, content management, operation & commerce. Each product is connected to a database that provides you with incredible insights at each stage in your customer journey.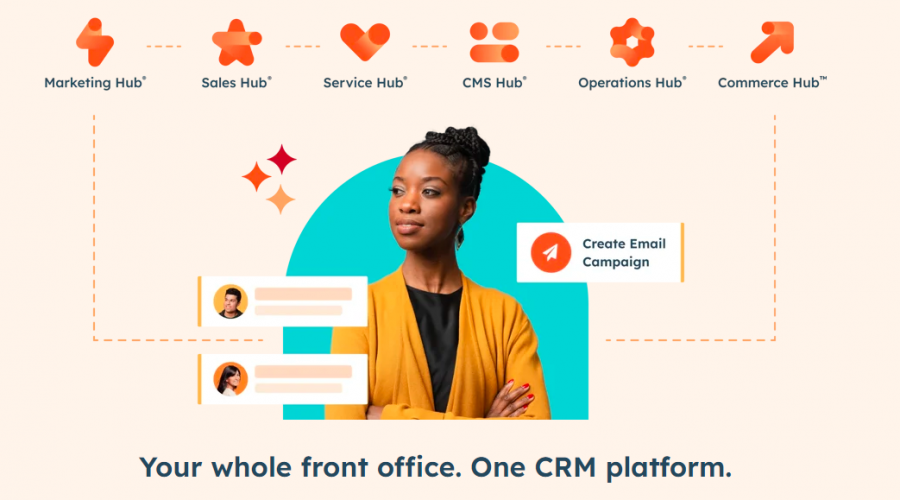 | | | |
| --- | --- | --- |
| Free Tools | Starter | Professional |
| $0 | $18/mo | $800/mo |
| Free Marketing tools | Email marketing | Starter Plus |
| Free Sales tools | Landing pages | Teams |
| Free Service tools | Live chat | Campaign reporting |
| Free CMS tools | Forms | Social media |
| Free Operations tools | HubSpot payments (U.S. only) | Omni-channel marketing automation |
| Free Commerce tools | Email and in-app chat support | Custom reporting |
Pipeline management, lead import and export, simplified dashboard, campaign management, and massive storage are some of the key highlights of HubSpot lead management software. HubSpot has the power to connect all of your staff with a singular AI-powered system of record. Since the company starts they spread their software to 120 countries with 184,000+ clients.
Vtiger Lead Management
Vtiger is easy to operate and houses lots of customizable tools to help you manage all your sales activities on a single dais. It provides a digital approach to handle your lead from generation to lead closures. Vtiger software helps you manage your data irrespective of your enterprise. Also, their features help you to convert maximum leads with minimal effort. If you want to manage the acquisition, conversion, or sales that all are easily managed from a single window.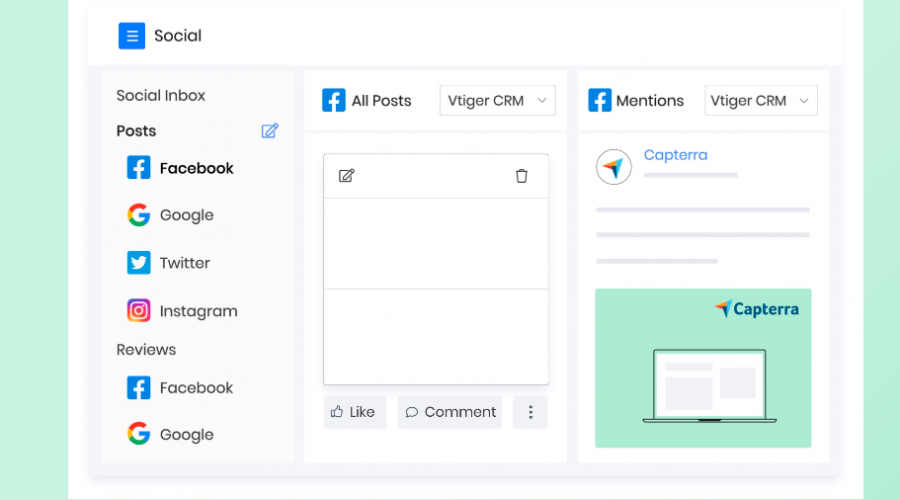 | | | | |
| --- | --- | --- | --- |
| ONE PILOT | ONE GROWTH | ONE PROFESSIONAL | ONE ENTERPRISE |
| US$0 | US$ 12 | US$ 30 | US$ 42 |
| CONTACT MANAGEMENT | Everything in One Pilot plus | Everything in One Growth plus | Everything in One Professional plus |
| INTERNAL COLLABORATION | LEAD MANAGEMENT | SALESFORCE AUTOMATION | CONTACT ENGAGEMENT |
| MARKETING | ACTION CENTER | HELP DESK | SALESFORCE AUTOMATION |
| PROJECT MANAGEMENT | SALESFORCE AUTOMATION | CONVERSATIONS | INTERNAL TICKETING |
| SALES PIPELINE | HELP DESK | DASHBOARDS | HELP DESK |
| | INVENTORY MANAGEMENT | LMS PORTAL | PROJECT MANAGEMENT |
Using Vtiger, businesses can identify and capture quality leads, nurture them with automated emails, schedule meetings, and visualize the sales pipeline to ensure the final purchase. The company is backed by an engaged community of users, developers, and partner networks in more than 110 countries. Also, their portfolio of products is used in more than 300,000 businesses worldwide to every business.
Zoho
Zoho is another competent lead management software for every industry. It is a robust yet affordable platform that comes with free and 4 paid packages. Zoho believes that its software is the ultimate product that helps to solve business problems & discover opportunities to help your business grow. In the last 25 years, they have offered 55 products to worldwide businesses. Nowadays people's main consent is privacy, they believe that trust is important in a relationship. They don't sell you data, the only way to make money is from the software license fees you pay them.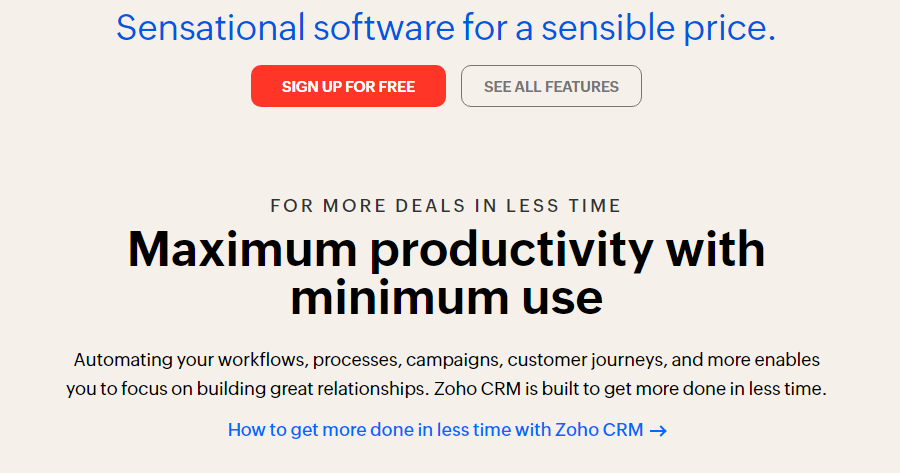 Here are some amazing features of Zoho Lead Management Software –
Sales Force Automation
Process Management
Journey Orchestration
Omnichannel
Analytics
Performance Management
Predictive Sales
Marketing Automation
Team Collaboration
Remote work
Mobile apps
Security
Developer Platform
Furthermore, Zoho software acknowledges the right set of skills to automate your sales pipeline for confirmed leads. It provides in-depth features like automated data collection, scheduling & tracking leads, data management, communication, and more. Today they have more than 1 million users worldwide & now they invest more in customer support and product development in sales & marketing. Their main motto is the best way to deliver choice and value to our customers.
PipeDrive
PipeDrive is quite a famous alternative in countries like India, Germany, Brazil, the UK, the US, Canada France, Spain, and more. It is the best fit for small to medium-sized business entities. In 2010, Pipedrive started from an Estonian garage. Started with just a bunch of salespeople who needed a much more efficient CRM tool than the one available in the market at the time. Where's a will, there's a way, hence, they built a visual Sales Platform, that is easy to use, enabling the users to streamline their work and be more efficient.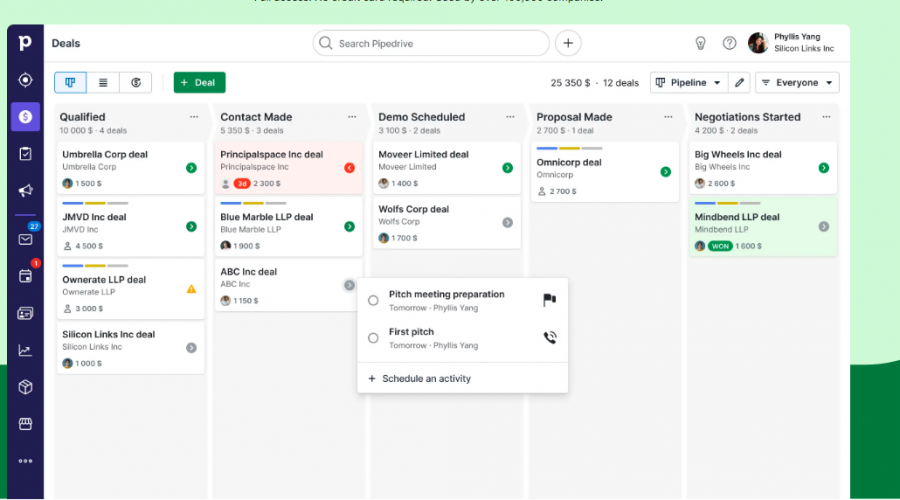 | | | | | |
| --- | --- | --- | --- | --- |
| Essential | Advanced | Professional | Power | Enterprise |
| US$ 9.90 | US$ 19.90 | US$ 39.90 | US$ 49.90 | US$ 59.90 |
| Lead, deal, contact, calendar, and pipeline management | Full email sync with templates, open and click tracking, and group emailing | Streamlined lead routing and account access controls for teams | Project planning, tracking, and delivery | Enhanced security preferences |
| Seamless data import and 400+ integrations | Automation builder, including email sequences | Document and contract management with e-signatures | Phone support and CRM implementation | Complete access to all features |
| 24/7, multi-language support | Meeting, email, and video call scheduling | Revenue forecasts and deeper reporting capabilities | Scalable control of account permissions and visibilities | Unlimited reports and customizations |
| | | Extra deal and field customization options | Ideal for increasingly busy pipelines and complex team structures | Double the number of automation per user |
Moreover, PipeDrive houses a collection of fruitful configurations such as email integration, activities management, sales reporting, forecasting, data import-export, and various others. Their team consists of over 800 people who work tirelessly to achieve one goal – Helping Small Businesses to succeed. With the help and support of their growing community and their global investor- Vista Equity, they are pushing every boundary and showing the world what wonders an easy-to-use and effective sales CRM can do for a Small Business
Salesforce
Salesforce is all the way a pertinent lead management solution for all business types. It encompasses all the essential tools to help you capture and nurture leads for final execution. Since the company started, they have taken an oath to change the world for the better technology that helps you to build a strong business. Their software plays a major role in easily content you with your team. Also, the company helps to unite every department to better approach clients with the world's #1 CRM. Their software allows everyone to share a single source of fact & uncover deep insights to better serve their customers.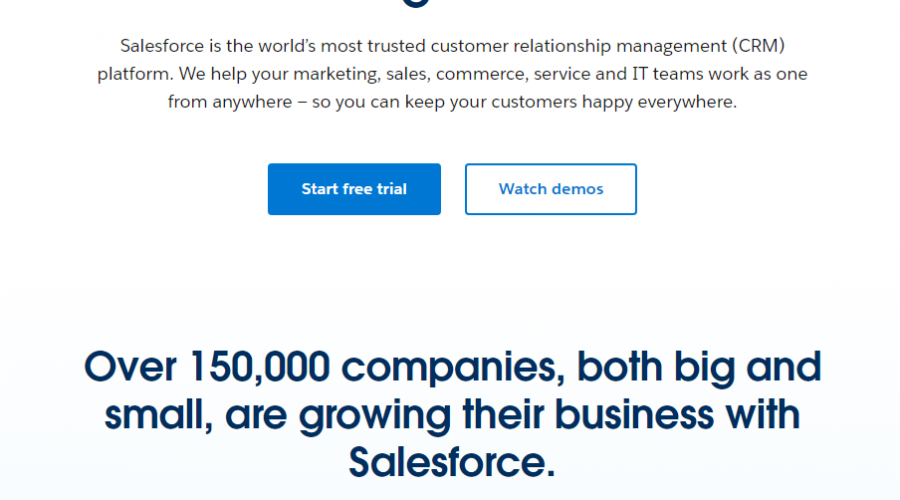 The software offers a clear picture of what is going on within the organization. The sales funnel is creatively managed on the cloud-based system to grow revenue and business reputation.
Infusionsoft
Used by over 17000 companies worldwide, Infusionsoft is an efficient lead management tool to help you achieve the desired sales goals. Infusionsoft is a product by Keap. With Keap Lead Management software, you get the all-in-one sales and marketing automation platform created to help your small business grow.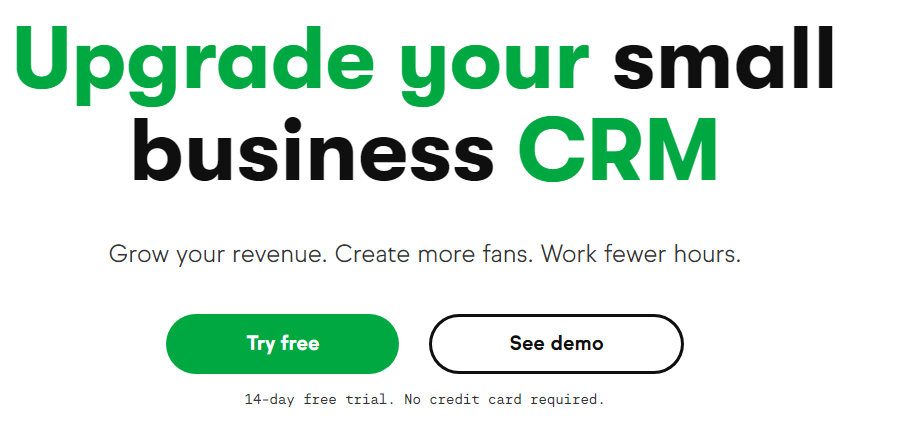 | | |
| --- | --- |
| Pro | Max |
| $159 /mo | $229 /mo |
| Automated lead capture & follow-up | Lead scoring |
| Lead & client management (CRM) | Lead source attribution |
| Appointments | Multi-page landing pages |
| Sales pipeline & analysis | Upsells and discounts |
| Quotes, invoices & payments | Promo codes |
| Landing pages & online sales | Advanced Reporting |
It streamlines pipeline management, automates repetitive tasks, and manages teams to obtain something valuable. Over the last 2 decades, they helped more than 1000 entrepreneurs fulfill their dreams as they level up their businesses. Today they have more than 320 employees with 32 thousand clients worldwide. In 2022 with 205.6 K users, they processed a $2,500,400,000 payment.
Apptivo
Apptivo is an admirable choice for any business as it is a highly affordable and broadly operational lead management system. You can get to choose between the free and paid version as per tour budget and needs. Since 2009 we spread our hands to 150,000 businesses in 194 countries for CRM software, project management, and invoicing.  They offer highly customizable apps to form a seamless solution. Apptivo is a highly customizable CRM software that suits your company promptly.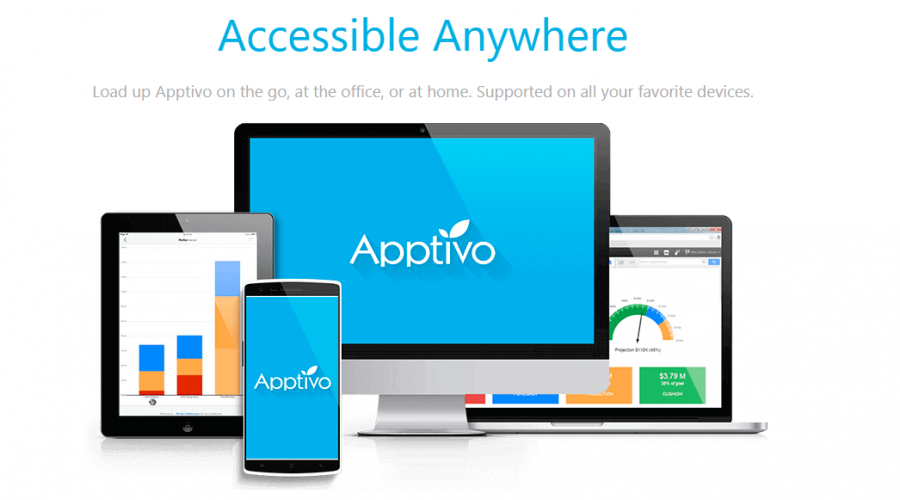 Lite
Premium
Ultimate
Enterprise
$10/MO

 Per user/Billed Monthly

$15/MO

 Per user/Billed Monthly

$25/MO

 Per user/Billed Monthly

Contact US
18 Apps
46 Apps
57 Apps
65 Apps
100 Custom Fields Per App
250 Custom Fields Per App
350 Custom Fields Per App
500 Custom Fields Per App
25 Workflows
75 Workflows
150 Workflows
300 Workflows
8 Custom Dashboards
25 Custom Dashboards
50 Custom Dashboards
100 Custom Dashboards
3rd Party Service Integration
3rd Party Service Integration
3rd Party Service Integration
Custom Integration
The company provides the flexibility that is essential to every leading enterprise so that's why they initiate exact apps that are necessary to provide optimal business solutions. It serves businesses with engaging features like email marketing, data management, lead automation, third-party integration, security, and more. Here are some top-notch services they provide you at economical rates:
CRM
Project Management
Online Invoicing
Procurement
Expense Reports
Hatchbuck
Hatchbuck is among the top 10 lead management software lists because of concrete reasons. With 13 employees they support small business owners around the globe. Their company is using marketing automation software but they are not satisfied with their marketing software for business owners. They create software for sale & marketing for small & midsize businesses. If your business is related to advertising, consulting, hospitality, and real estate then Hatchbuck is a good fit for you.

Lite
Pro
Agencies

 

Free
$199
$399
Hey, Marketing Specialist.
Everything in Lite
Everything in Pro
Contact Management
Full CRM
Bundle Accounts
Email Marketing
Deal Pipeline Management
Co-Branding
Marketing Automation
Gmail & Outlook Integration
Master Template Library
Landing Pages
Mobile Web App
Partner Certification
It imports contacts (LinkedIn, Outlook), uses API to synch data, adds notifications, scores activities, and some other routine tasks. The company added some features to help users support and track both forthcoming & existing clients.
Quick Base
It also compiles all the equipment necessary to manage leads to transform them into loyal customers. They welcome you with a platform that is built for dynamic work, where you can easily see, handle & connect with your work at an enterprise scale. Also, they have no code applications that fix visibility and workflow gaps. Quick Base allows its clients to deploy end-to-end solutions that are built expertly for them with proper clear outcomes. Also, they help you to maximize productivity by solving tough issues faster.

Free Trial
Team
Business
Enterprise
0 $
Starts at
35/user/mo
Starts at
55/user/mo
Fully customizable
Build custom apps
Template library
All Team features +
All Team and Business features +
Access the App Exchange
Personalized dashboards
Single sign-on
Advanced performance tools
Sync and report on data
Communications and file management integrations
Point solution and workflow enhancement channels
Advanced data encryption
Collaborate across teams
Quickbase mobile app
Gantt charts
On-prem connectivity and data warehouse integrations
After they take care of all things regarding project service then your team can maintain the app at your end independently. Today, their software has more than 100 partner that helps clients to get the business outcomes fast. The customizable software solution encourages leads, automates sales pipelines, builds charts, and saves data in the local storage directory. Their product solves your problems such as:
Project Management
Work Order Management
Subcontractor Management
Site Selection & Evaluation
Budgeting & Finance
Conclusion
It isn't a secret fact that lead generation and management is a daunting task. Businesses need a solid digital software solution to handle lead complexities with convenience.
These are the best 10 lead management software tools to help you automate your sales processes in a way to generates more leads and revenue in the long-run scenario. Therefore, as a business owner, you must implement one to witness incredible profitability and brand promotion.
Important Faqs
Q 1.) What is Lead Management & How Does the Software Help?
Ans 1.) Well, lead management refers to managing leads in such a way that you'll get more conversions out of it. Manually it is very hard to manage so the software helps you manage the leads automatically from different sources.
Q 2.) What is the Price of Lead Management Software?
Ans 2.) Do contact us now to know the exact pricing of our lead management software.
Q 3.) Which is the best software to manage leads sales?
Ans 3.) In India, many companies claim to be the best software for managing lead sales, but they only scam you. We do not say we are the best, but we will provide you with the best service compared to other companies with many other advantages at very economical prices.