Travel Companies CRM Software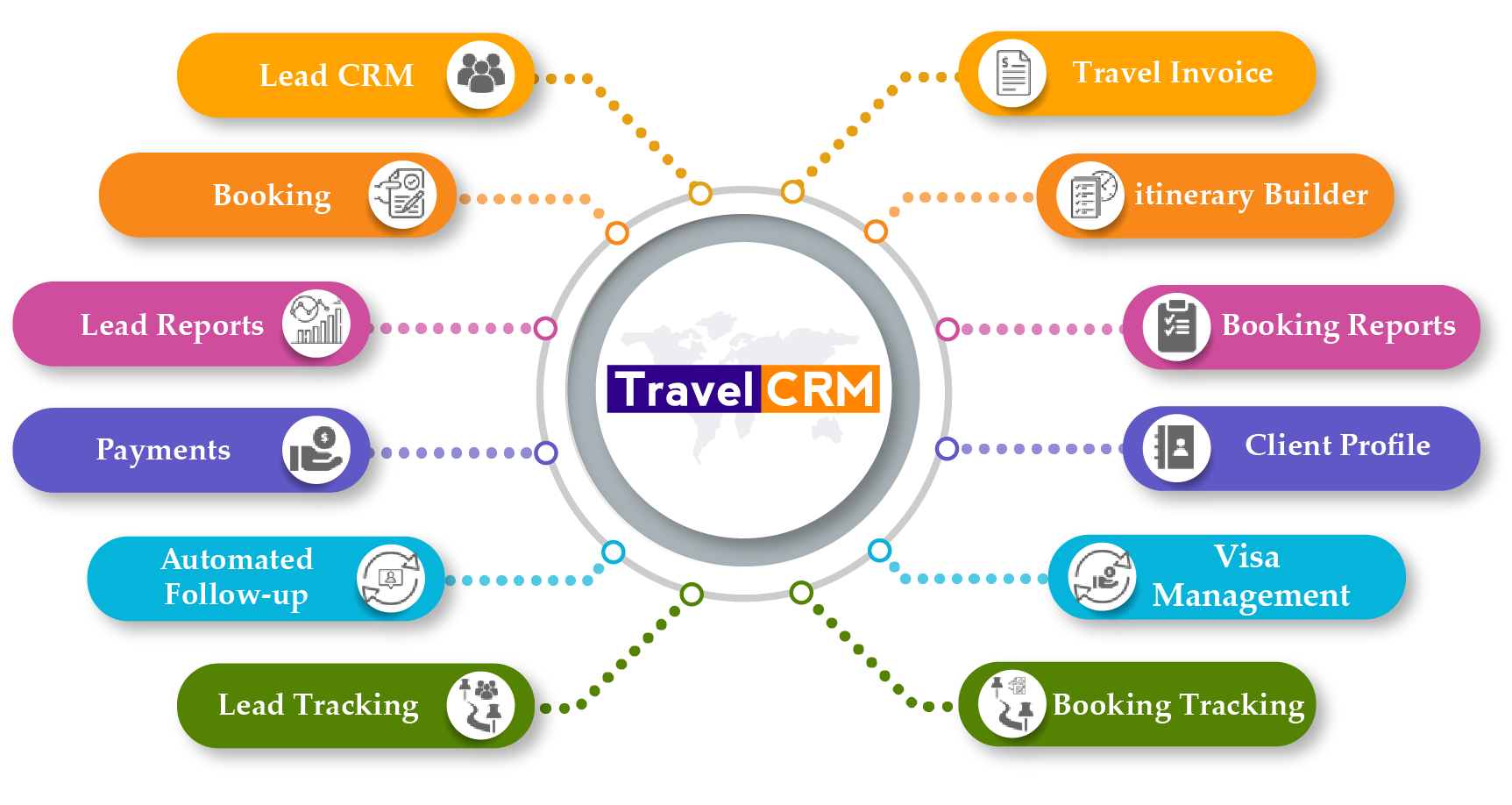 CRM For Travel Agency – Do you own a travel agency? Do you have different lead sources from where you can convert them into customers? But do you face issues in managing the leads, team members, customers in one place? If yes then we have a solution for you. The solution for all of your problems is travel CRM or travel lead management software.
A CRM (Customer Relationship Management) system combines industry-specific modules to help streamline business processes and customer management. In the travel industry, CRMs unlock diverse ways to manage and meet customer demands on the go. Travel CRM software help agencies coordinate the entire process on a single platform.
In today's highly-competitive business scenario, digital CRM systems have appeared as great savers for almost all industries. The cloud-based platform obtains the potential to manage and solidify invaluable customer relations.
The customer is still a significant element for businesses and affects marketing strategies substantially. Hence, customer satisfaction has always been a prominent goal for enterprises. The introduction of CRMs can also be seen as a forwarded step in this direction.
What is Travel CRM Software?
The prime objective of any CRM system is to help organizations streamline business processes and customer management. However, the rest of the features vary as per industry needs.
When it comes to the travel segment, Customer Relationship Management software helps ventures;
Coordinate customers
Improve lead management
Streamline follow-ups
Manage conversions
And expand the customer base
Concluding all, travel CRM software lets travel agencies manage and process the entire business activities smoothly. It provides a centralized platform to access data from different resources using integrated tools.
How is CRM Helpful for Travel Agencies?
Having specific modules to cater to traveling needs, dedicated travel CRM helps companies in many ways.
As a travel operator, you need to meet customers' specific demands besides handling business operations efficiently to achieve the ultimate purpose. At the same time, customer retention is another crucial aspect you need to emphasize promptly.
All these procedures jointly create a complex work environment for a travel operator. It becomes abundantly hard to manage these intricated processes manually that further resulting in bad customer experience and inferior services.
This is when a travel CRM comes to your rescue. The advanced digital tool houses cloud-based technicalities to overcome your daily business hassles efficiently.
Benefits for Travel CRM OR Travel Lead Management Software
Let's take a cursory glimpse at some of the highlighting benefits of travel CRM systems:
It helps owners set, allocate, and achieve sales targets.
Further, CRM catalyzes sales and business data and automates processes.
It ensures better relations with existing and future prospects.
A travel CRM coordinates collaboration among different departments.
It is quicker to enter customer data & information in a digital CRM system.
CRM generates and manages inquiries from multiple channels like websites, social media, hoardings & billboards, calls & emails, etc.
It creates and sends itineraries to customers.
The system stores documentation on local drives.
It integrates various travel partner sites and Google apps for a better management system.
A good CRM for traveling agencies also sends personalized emails for promotion.
CRMs can be utilized on multiple devices like smartphones, laptops, tablets, and more.
It provides quick monitoring of varying customer needs and preferences.
Moreover, travel CRM ensures a high conversion rate, improved revenue, and brand promotion.
Best CRMs for Travel Companies
Like other industries, the travel & tourism industry also has countless CRM software systems with industry-centric specifications on the table. This is the section to let you explore some of the best and most widely-recommended software solutions for your traveling agency. Let's hop right in.
WHSuites CRM
The WHSuites CRM software rocks in almost each industry type, thanks to the massive range of ultra-advanced protocols it involves. It is a magnificent solution for travel agencies to automate their daily business procedures flawlessly.
Furthermore, the system configures booking management, lead management, supplier management, advance reports, cloud storage, itinerary management, and other modules. Overall, WHSuites CRM is an effective panacea for all your travel business complications.
Sugar CRM
Secondly, we have Sugar CRM for travel agencies, which also illustrates unique parameters for owners. It assists marketing professionals to automate procedures associated with accounts, sales, and customer service.
Other pivotal characteristics of the tool comprise Automated Alerts, inbuilt SEO, Social Media Marketing, Massive Storage, Email Marketing, etc.
Kapture CRM
Kapture performs the basis for all-encompassing complexities within the travel business firm. It has lots of tenacious streamlining features right from booking management to customer feedback.
Moreover, Kapture CRM for the tourism company utilizes some of the highly-fruitful and industry-driven integrations. You will have ingress to all the departments via an intuitive dashboard. Leads are closed quickly, sales become swift, and inquiries are attended more professionally.
DQuip CRM
DQuip acquires specialization for around 17 industries, and traveling is one of them. It comes with a plethora of the latest configurations for traveling agencies to help control business operations smoothly.
Further, the DQuip CRM system provides a centralized approach to generate better coordination among departments. Customer information is available with a click to build cordial relations with them.
Salesforce CRM
It paves the way for different departments within the organization to a potential customer. Further, Salesforce integrates scads of valuable tools like social media, email, Artificial Intelligence, metadata architecture, and analytics.
When it comes to customer retention, Salesforce has no alternative. Its impeccable user interface and easy-to-use dashboard let you focus on your prime customers to confirm their next visit.
Zoho CRM
Zoho is another well-known customer relationship management tool tailored to the domain's specific needs. Traveling companies love to use Zoho CRM because of its incredible feature-sheet and lead management system. It primarily concentrates on consolidating customer relations.
Furthermore, the Zoho CRM system comes with 5 different plans for traveling agencies – Zoho CRM Plus, Starter, Standard, Professional & Enterprise. It helps firms automate sales, process management, omnichannel presence, performance evaluation, customization, etc.
The Final Verdict
Travel CRM software has the dexterity to handle convoluted business operations of a traveling organization. They are highly worthful and agile when we come to serve customers in a sharply-competitive atmosphere.
Furthermore, a good customer relationship management system automates the entire functionality through a pipeline to eliminate errors and inferior elements. Customer relations are better managed, coordinated, and streamlined to take traveling business to the next level.