CRM For Engineering Firms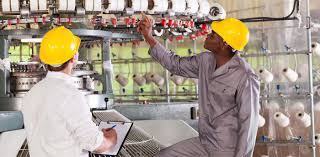 CRM Software for Engineering Firms – It becomes pretty hard for engineering organizations like the metallurgical industry, electronics manufacturers, scientific instrument manufacturers, etc. to manage the orders and leads easily. Without any proper setup, these companies are not able to handle the process without glitches. So A Customer Relationship Management software also has the potential for engineering firms. The market is stuffed with plenty of CRMs.
Some of them are multi-purpose, while others are industry-specific. This piece will stress on CRMs for engineering firms to get close insights into its various applications and other spheres.
A good client relationship management tool encompasses all the relevant ideologies to streamline business processes and customer relations. They have the capability of allocating minor work projects among different departments and then developing coordination among them.
It improves the business's efficiency and credibility alongside solidifying associations with the clientele.
What is Engineering CRM Software?
As its name suggests, an engineering CRM system is a digital software application strictly designed for engineers and engineering organizations.
Further, CRM software provides professional aid to engineers when it comes to managing customer interactions and other in-house project activities.
Time is precious for architects & engineering firms. Each lost hour impacted a lot the company's bottom line. Thereby, they need to accommodate a well-versed digital solution to find the information quickly to draft relevant policies on time. Here's the role of an engineering customer relationship management software that comes to light.
Why Should Engineering Firms Implement CRM Software?
A dexterous CRM system helps engineering corporations in many ways. Below are some of the chief advantages:
CRMs provide solid solutions to engineering sales squads to automate internal conversations and invaluable prospects.
Further, CRM solutions help businesses attain uplifted efficiency by aligning processes and people.
A good CRM software eliminates duplication by automatically repetitive manual tasks.
It is quite pleasant to access emails, phone calls, calendars, etc. through the automatically stored communication.
Furthermore, CRMs streamline contacts, projects, applications, contracts, and events on a single platform. Engineers no longer need to switch between different tools to access the required information.
Time management is another notable benefit of CRM software for engineers. You wouldn't miss important events and follow-ups.
By implementing CRM, engineering companies set to drive more revenue. It executes and supervises your marketing campaigns effectively to yield enhanced sales.
List of CRMs for Engineering Companies
Beneath, we have compiled a list of certified & well-trusted customer relationship management software for the engineering industry. Let's examine.
WHSuites CRM
The WHSuites CRM is around to help professional engineering units with their daily work operations. It is a well-integrated software solution with advanced web-based tools to back your complicated business processes majestically.
Furthermore, engineering firms will have contact management, centralized database & respiratory, customer history, effective team collaboration, on-time reminders, and more features.
CAS CRM
CAS is a certified digital solution for engineering enterprises with a humongous client base and prospects. It is a dedicated software entailing best-of-the-class protocols to assist engineers at all strategic levels.
Moreover, the CAS CRM arrives to help users with all their project management procedures. You will have all-encompassing solutions for your project planning, lead management, customer retention, customer segmentation, etc.
Cosential
There are numerous engineering firms that trust Cosential more than any other CRM system. The system helps you maximize revenue, end chaos, reduce costs of incurring new business.
Likewise, the Cosential CRM tool is a cloud-based module with massive storage space for documents. The growth and relationship management software ensure control, speed, order, and efficiency within the organization.
PayPanther
The PayPanther customer relationship management software with useful integrations on the deck. The cloud-based system covers lots of managing tasks, invoices, projects, payments, and time tracking facilities.
In addition to this, the engineering CRM also functions online by integrating Gmail, QuickBooks, Calendar, Stripe, and other Google products. Creating healthier customer relations is another key motive of the PayPanther tool.
Salesforce CRM
The Salesforce management system has helped thousands of engineering firms in consolidating their ultimate goals. It offers a centralized database to access all the relevant information in a single place.
Moreover, Salesforce enhances visibility, accelerates productivity, manages clientele by utilizing some of the industry-leading protocols on the table. Professionals will have a great user experience at all strategic moments.
The Bottom Line
Undoubtedly, CRMs for engineering firms collate different apartments in a way to utilize resources inefficiently manner. These systems come forward for helping engineers to streamline their routine processes for better execution & client retention.
Time has changed a lot for the engineering industry as well. The competition has got stiffer in the field to arouse organizations to implement digital software solutions. This is the moment CRMs have exceptional potential to back-engineering operations more proficiently.