eCommerce CRM Software in India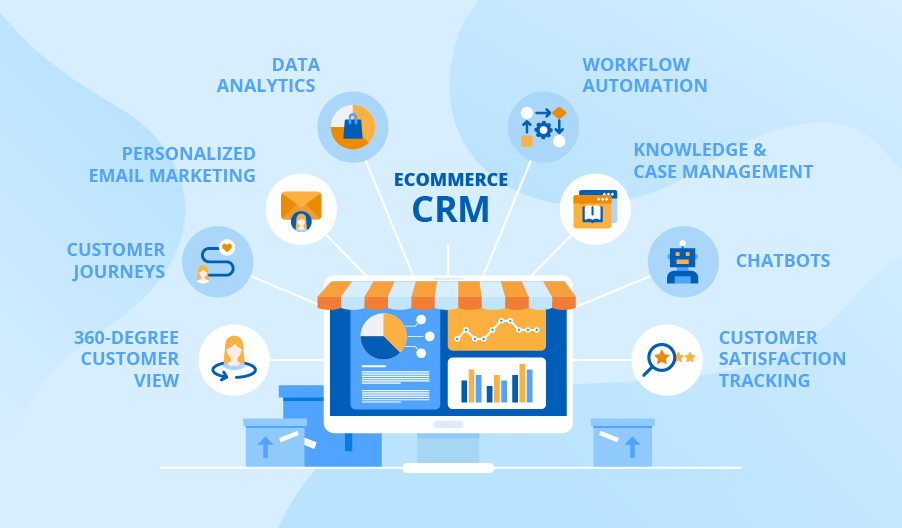 eCommerce CRM Software – This blog post will let you know the best CRM software for eCommerce available to buy in India.CRM or Customer Relationship Management, in short, is primarily used for eCommerce portals to handle and manage customers' pertinent information in one place.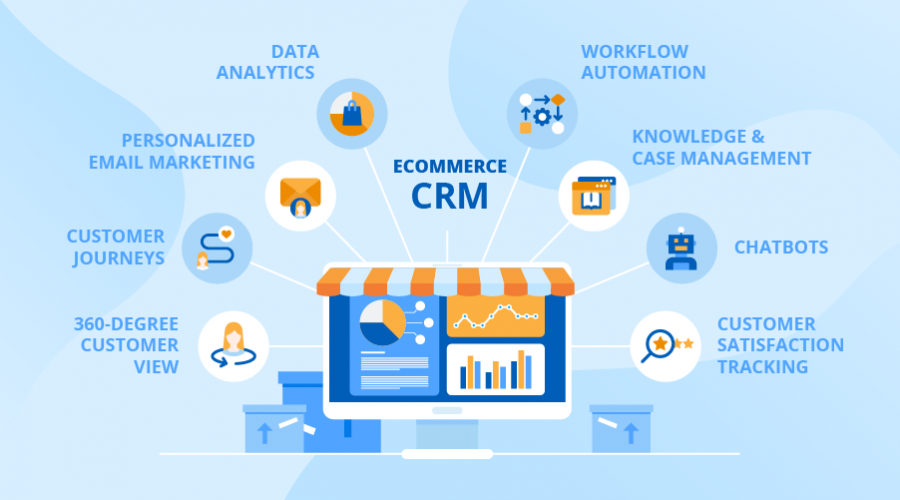 Further, CRM software tools have a wide space of application from Yoga instructors to Small-Scale-Enterprises to an individual who has an eCommerce website. Using CRM solutions for online shopping sites, store owners manage to collate and organize customer data to boost customer retention and sales. Ultimately, it helps in garnering relationships with existing customers alongside winning back former customers.
What is CRM Software for eCommerce Retailers?
If we consider Customer Relationship Management, it is simply a system for managing a company's interactions with customers. It fits a variety of organizations including eCommerce platforms, manufacturing units, insurance corporations, healthcare institutes, and more.
Consequently, the functioning of the CRM software thoroughly depends upon the nature and requirements of the firm using it. For example, a healthcare firm needs different CRM solutions from that of a fitness brand.
So, what CRM software means for an eCommerce company? In a nutshell, Customer Relationship Management software is a tool to manage all of your customer data & information on a single interface.
When you implement CRM software strategies on your eCommerce website, you actually gear up to welcome boosted sales, better customer relations, new leads and revenue, and optimized marketing efforts.
Best CRM eCommerce software in India – A Detailed Buying Guide
There are scads of CRM eCommerce software in India claiming to be the industry apex. Hence, picking the best CRM software alternative could be a challenging task for you. You need a CRM tool, which fits and collaborates with your entire data management system to help in generating productive marketing policies.
How to choose? Not a worry at all because the following is the list of top 9 CRM eCommerce software to buy-in India that you can compare before finalizing your choice.
WHSuites
WHSuites atop the list, thanks to its wide range of incredible features in the pack. It is tailored specifically to sales to have better insights into cost-revenue ratios. It offers comprehensive customer-related information, i.e. shopping habits, shipping preferences, interests, and many other metrics.
Further, WHSuites encompasses integrated modules to synchronize performance across all other departments. It stores customer data related to sales, preferences, and most visited compartments to let you analyze the scene and then draft relevant marketing schemes.
Contact: SCO 176, 2nd Floor, Backside of Escape Microbrewery, Sector 5, Panchkula, Haryana 134113, India
Phone: 90568-55559, 6000810002
Email: sandeep@webhopers.com, info@webhopers.com
ZOHO
ZOHO eCommerce CRM software solution comes around the way to handle your customer data management system smartly. If you want to develop robust customer relationships, ZOHO performs well with various functional aspects at affordable prices.
It helps you track leads, optimizing sales activities, besides multi-channel communication, sales productivity, automation, customization, and lots of other fruitful features.
Salesforce
Further, Salesforce is also a widely used tool by eCommerce firms with a great impact on sales and customer retention. It embeds a combination of qualified specifications like lead management, email integration, contact management, etc.
Users can also execute sales forecasting to form relevant policies for future marketing demands. Overall, it places customers at the center of all your marketing commands.
HubSpot
HubSpot comprises various performance boosters in both free and paid packages. One of the prime advantages of HubSpot CRM software for eCommerce stores is that it is free for individual salespersons. It gathers all customers in a single database, which further comes with easy access. HubSpot also provides customizable templates that can be used to identify active and lethargy modules.
Lucrativ
Lucrativ is the jack of all trades, in fact, with lots of integrations like Gmail mailboxes, Zapflow, Salesforce, HubSpot through the Lucrativ REST API. Additionally, it comes with free signups for potential customers to let them know what they have to offer to customers.
Active Campaign
The Active Campaign CRM software solution adjoins a plethora of units in the shape of marketing automation, email marketing, and CRM tools to back brand awareness. Users have access to solutions for awareness building, communication through email, SMS, live chat, etc.
In addition to that, paid edition hosts various integrations involving Typeform, WordPress, PipeDrive, WooCommerce, Shopify, Facebook, ActiveWoo, DropBox, and some others through Zapier.
SharpSpring
It also makes it to the list of best CRM software for eCommerce in India, considering the bundle of digital marketing features for users. It portrays social media tools, dynamic landing pages, sales automation, and dynamic form builders.
SharpSpring has a simple-to-use user interface designed optimally to present great data visualizations.
ReadyCloud
If you look forward to turning potential customers into loyal customers, ReadyCloudis there to help you out. It could be a great CRM software alternative for small online retailers.
In terms of configurations, ReadyCloud brings some top-notch algorithms like contact and order management, easy-to-use calendar, advanced reporting, etc. Owners will also enjoy automated shipping and returns, along with quick integration with popular eCommerce services i.e. Magento, BigCommerce, Shopify, etc.
Act
Last but not least, the Act comes to be helpful for small businesses and individuals. It is an affordable eCommerce customer relationship management software solution with essential tools to perform accordingly. One of the notable features is that if you go offline, the software will sync changes (you made during the offline session) as soon as you are connected to the internet.
The Final Verdict
So, this is the list of CRM software for eCommerce in India with the highest priority amongst online retailers. Each software has its own strengths and limitations to fit varied business needs.
Almost all Customer Relationship Management tools are fully-loaded with the advanced protocols to meet your marketing needs and goals to the full potential. However, the final choice always stays with the buyer.